Of course, the holidays mean many things to us, but it definitely means cookies.
I looked over dozens of recipes and ended up taking ideas from several, but the core recipe was from (of all places) Martha Stewart Living web site. (Keep your "jail house cookies" comments to yourselves.)
Here's what I came up with for a final recipe, including some post-facto edits that I would do next time:
6 cups sifted all-purpose flour
1 teaspoon baking soda
1/2 teaspoon baking powder
1 cup (2 sticks) unsalted butter
1 cup dark-brown sugar, packed
6 teaspoons ground ginger
1 teaspoon nutmeg
6 teaspoons ground cinnamon
1 1/2 teaspoons ground cloves
1/2 teaspoon finely ground black pepper
1 1/2 teaspoons salt
2 large eggs
1 cup unsulfured molasses.
Supposedly, this makes 16 large cookies, but we did a double batch and made cookies of various sizes so I can't verify that. I edited the recipe to add nutmeg, more cinnamon and ginger as I wanted even more flavor in the cookies. I also changed to a smaller amount of black pepper (it gives a nice after taste to each cookie bite). The dough turned out to be very dry so I think we cheated and added about two tablespoons of milk near the end of the mixing.
I whipped up (literally) some standard buttercream-like icing:
1 stick of unstalted butter
one small box of powdered sugar
vanilla to taste.
As you can see, we also divided up the icing and added food coloring. With some hastily-fashioned wax paper icing bags we were in business. Here are the results: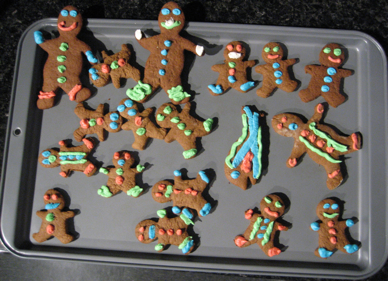 Not pictured was the favorite, literature-themed cookie. The white whale. As you can see, creativity reigned, but we also kept the original goal in mind: get as much icing as possible on many cookies. (Mmmm, icing.)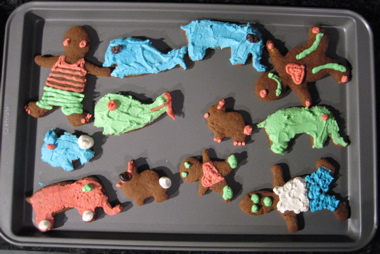 What am I doing with a whale, bunny, elephant and zebra cookie cutter? Like you don't have some?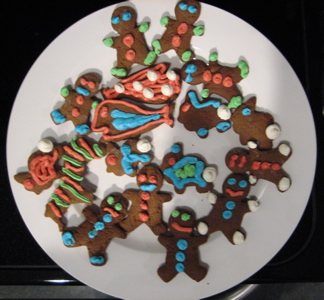 Some cookies had a personality of their own and these three jumped out at me. Note the resemblances to Zoidberg at the Beach, a funky, hypnotized Santa and Sluggo (respectively).
Don't bother asking, they're all gone.