While not really an open-source salsa recipe (it is much too basic), this is what I made this weekend, now that Central Market has their roasted green chiles from Hatch, New Mexico in stock.
There are no exact amounts, almost everything is adjustable for your tastes and what you have available, so let's be algebraic with ratios:
2x Organic Plum Tomatoes – diced
Kosher Salt – 1 pinch/tomato used
Oregano, Cumin or fresh Basil to taste (or not)
0.5x Garlic Clove – finely minced

Stir these first four ingredients together well and let sit while prepping the remaining ingredients

0.75x Yellow Hatch Onions – diced
1x Roasted Green Hatch Chiles -diced (assume 6″ long peppers with seeds removed)
Roasted Yellow Corn (not pictured)
And this is what you get.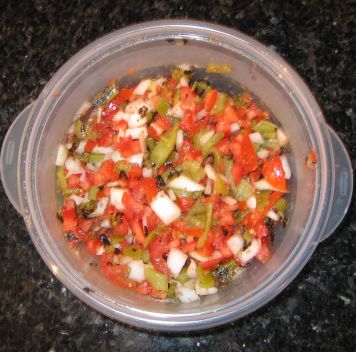 Excellent with some corn tortillas.