Saturday, I went with friends to the Home Slice Pizza Slice-o-Rama Pizza Carnival
I had not been to Home Slice before, and this was a great excuse to get there and try out some pie. For some reason, in the last year or so Austin seems to be getting serious about pizza. This is good news for all of us.
The Carnival was a charity event for Big Brothers Big Sisters of Central Texas, with tickets for the booths that included a few games of skill, a dunking booth, cotton candy, beer (but not beer-flavored cotton candy), and a fortune teller called the Great Calzoni. In the back of Home Slice there is a patio, which was a surprise and they were featuring a team of dough-tossing acrobats called the World Pizza Champions.
What would a carnival be without feats of skill? Well, they had them here too. The most interesting activities were the largest pizza dough contest where local pizzerias could send their greatest dough tossers and shapers to see who could make the largest (in diameter) pizzas.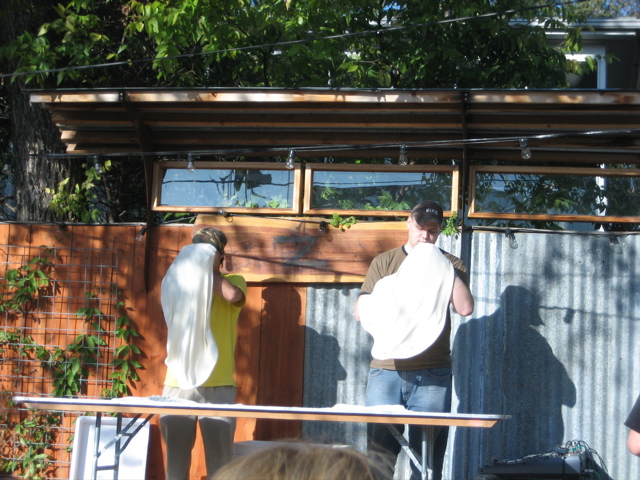 Next, was the contest for making five pizzas (dough only) the fastest. It was amazing to see them at work.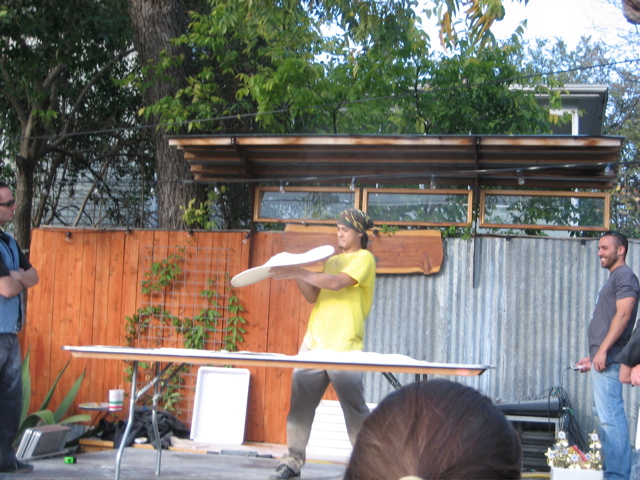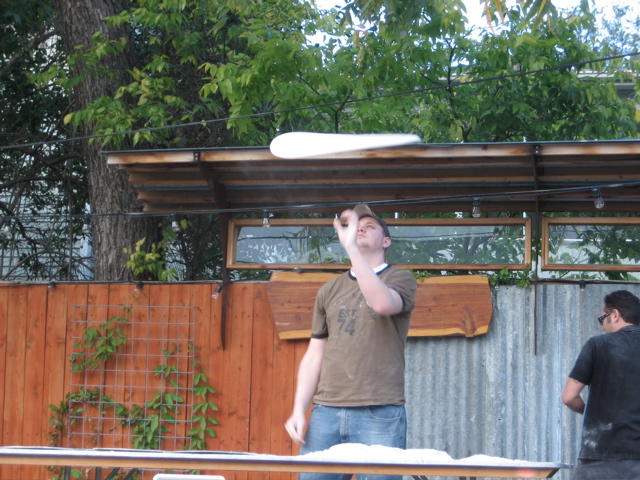 Oh, we ate some pizza too. Our pizza karma was waxing and we got a booth inside (from the outside you'd never know it's so roomy) and proceeded to order. I started with the greek salad, which was served on a room-temp tin pie plate. It has small, diced bits of cheese in it, with the usual leafy add-ons such as peppers and just a few very tasty Kalamata olives. A few garlic knots were included with the salad, just the thing to help with eating the salad and to sate my wait for the pizza. I went with my benchmark pizza, the margherita. Here's what this beauty looked like:
The pizza was wonderful. The dough was hot, fresh and crisp but also chewy with some singed spots and just the right amount of bubbling in the dough. The tomatoes were very fresh and diced with generous amounts of garlic and basil.
Also at the table was the traditional pepperoni pie:
While I didn't try the pepperoni, it was going fast and the look of meat-eating bliss was apparent. There was more cheese on this pie, which looked just gooey enough to be sinfully good. (I also put my life in danger as it took me a few shots to get this picture just right and at least someone at the table wanted pizza NOW and didn't want to wait on my untouched pizza pic.)
Would I go back to Home Slice? You bet – let's go right now.