Here is a brief list of recommended books from my Quantitative Information Architecturetalk at the 2010 Information Architecture Summit that review many aspects of quantitative thinking (both good and bad) that relate to using mathematical methods to as a toolkit for information architecture issues.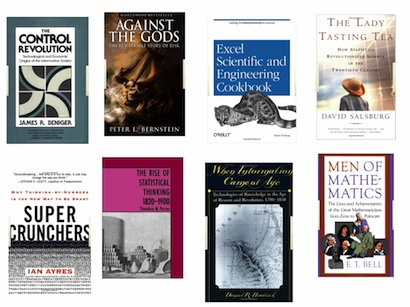 Many of these books are non-fiction favorites. I've used them in courses I've taught, relied on them for research ideas and used them to convey how quantitative innovation is pursued.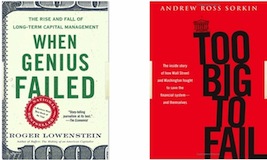 Two books illustrate the downfall of quantitative hubris (among other things) and both are fun to read.
When Genius Failed: The Rise and Fall of Long-Term Capital Management by Roger Lowenstein. This book narrates the catastrophic failure of Long-Term Capital Management, the fabled sure-bet genius-powered hedge fund that boasted two Nobel laureates among its partners and how they nearly crashed the entire world financial system with this overconfidence in 1998.
Too Big to Fail: The Inside Story of How Wall Street and Washington Fought to Save the Financial System—and Themselves by Andrew Ross Sorkin. A detailed (600 page plus) report of the nearly minute to minute recent financial crisis and an indictment of over-reliance on trusting abstract mathematics without (any?) explanation or validation. Worth remembering when confronted with abundant or seemingly infallible data-driven results that we should not be intimidated and remember to ask Why? and How?.