I've been working through Peter Reinhart's book American Pie: My Search for the Perfect Pizza and working on my own quest for perhaps not the perfect pizza, but some very passable options I could make myself.
With Labor Day freeing up a little more time, I tried out two batches of pizza dough. This time I pitted two different flours against each other, with the constant of the bread machine as the dough prep system. (If it is possible to get passable dough from a home machine is a bigger test indeed.)
The first batch came out pretty good, but was perhaps a little heavier than expected, perhaps from the fresh basil and dried oregano I minced and mixed in with the dough. Here's what I came up with (I forgot to get a picture before I started to cut up the pie):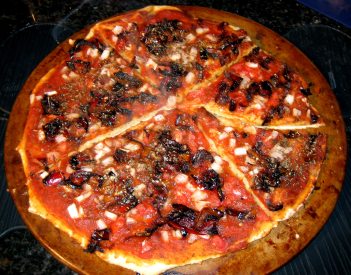 While this pie was quite tasty, the key wasn't the dough, it was the roasted red and yellow peppers (not hatch chiles, just peppers this time). If it looks a bit odd, note that I forgot to buy some cheese, but the majority of the time I don't like most cheeses on pizza anyway.
The second dough batch was with a "bread flour" that I also partly sifted. I also tweaked my recipe by adding about 1/4 tsp. more EVOO. This time I added just a bit of dried oregano and some rosemary to the dough, but much less overall than the spices from the previous batch.
Here's what I came up with, forgive the oddlly-shaped final form: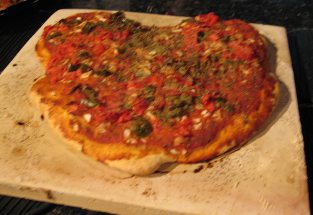 The key to this one? Chopped jalepenos and more fresh rosemary with slightly over-ripe roma tomatoes. Tasty. I also have to improve my abilities to evenly distribute toppings. The dough was definitely better, lighter and cooked just a bit better on this other pizza stone.